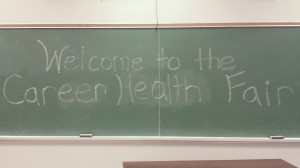 On October 29, 2014 the York U TD – CEC along with Seneca College hosted a health career fair. The purpose of the fair was to provide information on non-traditional health career options. Several visual boards were displayed around the room to provide participants with information on the different kinds of available health pathways. York University, Seneca College, and The Michener Institute for Applied Health Sciences had wonderful table set-ups with pamphlets, handouts, and booklets available for participants to find additional information. During the event there was a panel of four speakers who enlightened the group on pathways to health careers and education.
The speakers included:
Andrew Berthiaume from The Michener Institute for Applied Health Sciences
Jackeline Barragan from Black Creek Community Health Centre
Lily Tsonis from Seneca College
Travis Edwards, a fourth year York University Nursing Student
The panel spoke about different health study programs, requirements, admissions, bursaries, volunteering, practicum, possible outcomes, and much more. Lily Tsonis educated the participants on Seneca's many health education opportunities, such as Fitness & Health Promotion, Opticianry, and Therapeutic Recreation. Andre Berthiaume focused on admission requirements for The Michener Institute programs, as well as the importance of grades and applications. Jackeline Barragan shared the importance of overall community wellness, instead of primarily focusing on individual health. She expressed how a career in a community health setting can help achieve this vision. Travis Edwards went on to explain his experiences transitioning from pursuing a technology-based career to becoming a nursing student. Following the panel, participants were able to ask any questions they may have had and speak to each panel member on a one-on-one basis.
Stay tuned for our next Health Career Fair in 2015!