Over 200 Students from C.W. Jeffreys Collegiate Institute, Westview Centennial Secondary School and Downsview Secondary School took part in the 1st Annual Walk with Excellence parade, on Friday June 14, 2013! It was a celebration of student achievement and educational attainment of the local high school graduating class of 2013.  The parade brought together students, families, and the community at large to walk, gather and witness a rite of passage as students took a symbolic walk to York University. The CEC was present to celebrate and congratulate students as they made their way to the TEL building on campus!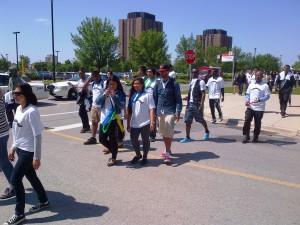 Students proudly wore t-shirts with the words of "We're In The Know".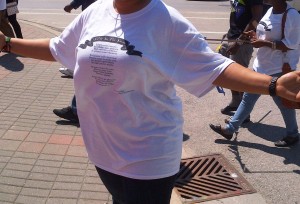 In the words of George Elliott Clarke:
We're In The Know
Letters yield treasure
Knowledge that's pleasure
Math resolves problems
It schemes smart theorems
Techniques crafts know-how
Dreams come to power now
Art throws open blinds
So light pierces minds
Science charts the stars
History maps wars
Sport fields miracles
Heroes, oracles
From school we advance
To win every chance
Graduates, we rise –
To seize every prize.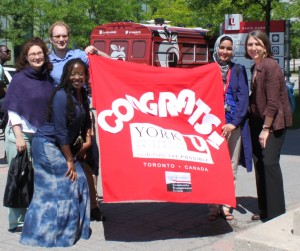 More:
Toronto Star article: Walk with Excellence redefines graduation at Jane-Finch