Resources on Financial Literacy: 
November 4, 2018
Symposium Fosters a Conversation About Fair Banking For All Canadians – Read More Here 
September 19, 2018
Click Here to read about Resourcing Student Debt Solutions – FAQs and FACT SHEETS
May 20th 2016
BCFAN Responding to Ontario Government on Payday Loan
BCFAN Submission on Potential Reductions in the Maximum Total Cost of Borrowing a PDL, May 20, 2016
August 14th 2015
BCFAN Submission on Strengthening Consumer Financial Protection
28 October 2015
Click here to read "Ottawa's financial literacy strategy is noble but, it's not enough," by Brenda Spotton Visano
12 March 2015
Register for our Financial Counselling for People Living on Low Incomes Webinar – March 26, 2015
Join Liz Mulholland, CEO of Prosper Canada, on March 26, 2015, 11:00 am – 12:00 noon (EST), for an interactive one-hour webinar to discuss findings from a new report looking at emerging ideas on best practice in financial counselling for people living on low incomes.
The report, Financial Counselling for People Living on Low Incomes: International Scan of Best Practices, summarizes research undertaken in response to growing demand from low-income consumers for personalized financial support to help them tackle financial challenges like debt, difficulty accessing benefits, and financial planning for the future. Different jurisdictions have taken different approaches to meeting this demand, but practitioners and other experts in Canada, the US, the UK, and Australia share some similar views when it comes to their thoughts on best practice.
Liz will explore key findings from the report and their implications for future work in this area.
Please direct inquiries to:
Julie McFayden
Tel: 416-665-2828 Ext. 231
jmcfayden@prospercanada.org
---
13 Nov 2015
Strengthening Consumer Financial Protection
– an open letter to Ontario's Minister of Government and Consumer Services regarding fringe financial services.
The Power of Collaboration: 


download powerpoint.
---
November 12th 2014
BCFAN at National Credit Week
The Black Creek Financial Action Network was at Yorkgate Mall engaging local residents on the importance of financial literacy and managing credit. This event was one of many happening during National Credit Week throughout Canada.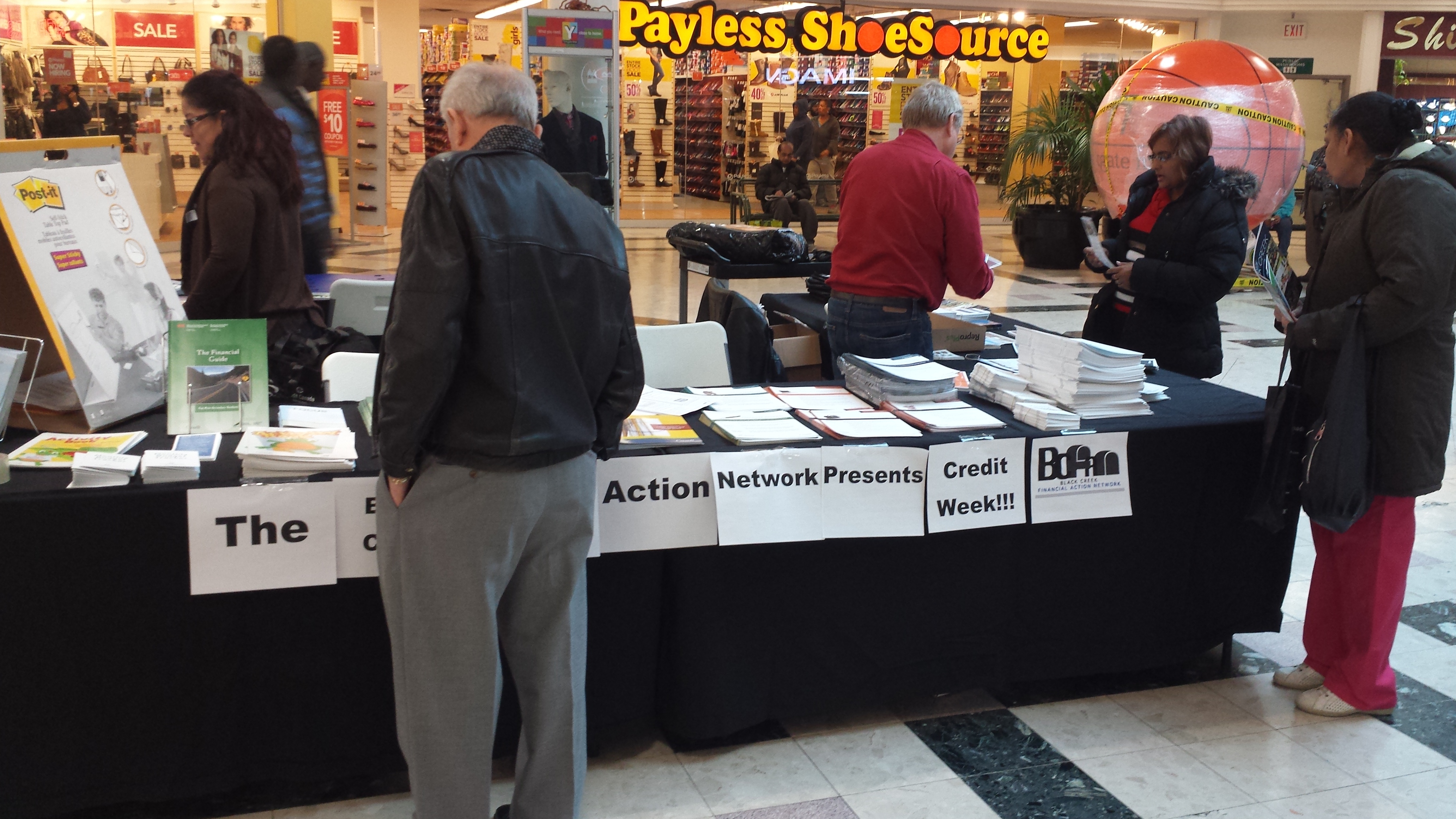 ---
June 19th 2013
Black Creek Financial Action Network sponsored a presentation by John Stapleton about Retiring on a Low Income on June 25, 2013. John's work challenges mainstream thinking about retirement for people on a low income, and has suggestions from a practical as well as policy level to increase financial awareness and planning for seniors.
To find out more about CPP/OAS & Guaranteed Income Supplement see:
John Stapleton's presentation – Retiring on a low income
John Stapleton's website: http://www.openpolicyontario.com
THE LITTLE BLACK BOOK OF SCAMS: Your guide to protection against fraud
---